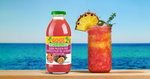 Ingredients




2 oz dark rum
1/2 oz lime juice
Pineapple juice
Ice cubes
Pineapple slice



Directions


1.

Fill a cocktail shaker with ice cubes. Add the dark rum, Cool Runnings Passion Fruit Nectar and lime juice to the shaker.



2.

Shake well until all the ingredients are combined. Strain the cocktail into a tall glass filled with ice.



3.

Top up the glass with pineapple juice.

 

Garnish with a pineapple slice. Serve and enjoy!