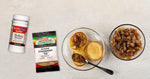 Serves: 4 servings | Prep time: 10 minutes | Cooking time: 15 minutes
Ingredients  


Pancakes

Apple Topping

Directions


1. Preheat a skillet on medium to high heat.

2. Crack the egg into a mixing bowl, and mix in the milk and whisk together.

3. In a separate bowl, mix together the flour, sugar, baking powder, baking soda, cinnamon powder and salt and mix well. Pour the dry ingredients into the wet ingredients in the mixing bowl. 

4. Coat the skillet with some oil, and use a 1/4 cup measuring cup to pour batter onto the skillet. Let cook for 2 minutes, let bubbles form and the edges start to look more dry. Use a spatula to flip the pancake over and let cook for another 1 - 2 minutes on the other side. 

5. Set pancake aside and keep repeating process until you have no more batter. 

6. For the apple cinnamon topping, take a medium sauce pan and add butter, apples, brown sugar and cinnamon. Stir over medium heat for 3 to 5 minutes and let apple tender. Stir in the maple syrup and serve over the warm pancakes!