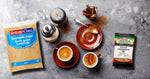 Servings: 8 servings | Prep time: 5 minutes | Cooking time: 10 minutes
Ingredients  



Directions


1. Place a paper filler in your drop coffee maker and add your coffee grounds.

2. Pour the boiling water into the paper filler and stir to make sure all the coffee grounds are soaked. Let the coffee drip. 

3. Sprinkle some cinnamon onto your coffee and add some sugar or cream depending on how you like it. Top it off with more cinnamon.