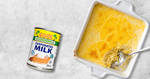 Serves: 8 servings
Ingredients




1 can cream style corn (15 oz.)
1 can whole kernel com, drained (19 oz.)
1 cup of Cool Runnings evaporated milk
½ cup finely chopped onion
¼ cup chopped pimento or sweet peppers
½ tsp. salt
½ tsp. hot pepper
2 eggs, beaten






Directions


1. Combine cream style corn, kernel corn, milk, onion, pimento peppers, salt, hot pepper and eggs.

2. Pour in a greased dish.

3. Put the dish in a pan of hot water and bake at 350 F for 30 minutes or until a knife comes out clean when tested.