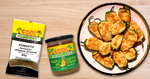 Ingredients




Directions


1. Preheat your oven to 375°F (190°C).

 Line a baking sheet with parchment paper.



2.

Slice the jalapeño peppers in half lengthwise and scoop out the seeds and membranes with a spoon.



3. In a medium bowl, mix together the cream cheese, cheddar cheese, pineapple jam, red onion, cilantro, allspice, ginger, salt, and black pepper until well combined.

4.

Spoon the cheese mixture into the jalapeno halves and place them

 on baking sheet with parchment paper. Try not to 

overfill or the cheese will ooze out while baking.



5. In a small bowl, mix together the panko breadcrumbs and vegetable oil. Sprinkle the breadcrumb mixture over the jalapeno halves.

6. Bake the jalapeno poppers for 20-25 minutes, until the filling is hot and bubbly and the breadcrumbs are golden brown.

7. Serve hot and enjoy!