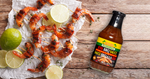 Ingredients




Directions


1. Preheat the oven on broil. 

2. Whisk together the lemon juice, garlic, fish seasoning, olive oil, Jerk BBQ sauce and ½ tsp. of salt.

3. 

Add the shrimp to the mixture and toss to coat it evenly; set aside shrimp in the fridge and let marinate for 20 mins.



4.

Flip the shrimp in the marinade. Remove each shrimp, wrap a piece of bacon around it, and use a toothpick to secure it.




5. Line a baking tray with a baking sheet. Place the bacon-wrapped shrimp on the baking sheet and pour any remaining marinade over the shrimp.
6. Place the baking tray into the oven and let broil. Turn the shrimp, and cook until the bacon is slightly crispy and the shrimp is cooked. Serve and enjoy!