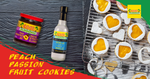 Active time: 20 minutes | Oven time: 12 minutes | Yields: 36 cookies
Ingredients




2 ½ cups all-purpose flour, plus more to sprinkle

½ cup butter, room temperature

2 eggs

1 tsp baking powder

½ tsp salt



Directions


1.

Preheat oven to 350°F.



2.

Line two medium baking trays with parchment paper. Reserve.



3.

In a medium bowl, mix butter and 

British Class Turbinado Sugar

 until the sugar is fully incorporated.



4.

Add 

Cool Runnings Vanilla Extract

 and then one egg at a time, mixing well after each egg addition.



5. 

Sift flour, baking powder and salt over this mixture and mix with the help of a spatula or wooden spoon.



6.

Sprinkle flour over a clean and flat surface and work the dough into a smooth ball. Place it in a bowl and refrigerate for 30 minutes.



7.

Sprinkle some flour over a surface and over the dough. Open the dough using a rolling pin until it is 1cm thick, then cut it using a 5 cm round cookie cutter. Make a well with your finger in the center of each cookie.



8.

Fill each cookie with ½ tsp 

Cool Runnings Peach Passion Fruit Jam

 and bake until golden brown, about 12 minutes.



9.

Enjoy!




Tip: Make sure the well in your cookies is quite deep, otherwise most of the jam will overflow.