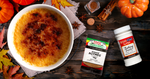 Serves: 8 servings | Prep time: 20 minutes | Cooking time: 60 minutes
Ingredients



Directions


1. Preheat the oven to 350°F. Butter a 2L / 8-cup round baking dish.

2.  In a mixing bowl, mix together the egg, milk, brown sugar and pumpkin puree. In another bowl, combine the flour, baking powder and salt.

3. Add the dry ingredients to the pumpkin mixture. Stir in half the crushed cookies and all the nutmeg.

4. Bake on the middle rack for 1 hour. To check if the flan is ready, take a knife and insert it into the middle, it it comes out clean the flan is done. If not, continue baking for another 15 minutes.

5. Once the flan is done, remove it from the oven. Use a spatula to run around the edges of the flan to release it and unmold it onto a larger plate. Optional: Top off with some whipped cream and pumpkin spice for garnish.