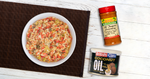 Servings: 4 servings | Prep time: 10 minutes | Cooking time: 25 minutes
Ingredients

400g saltfish or salt cod
3 cups of water
1 tbsp. British Class coconut oil
1 medium red or white onion (chopped)
¼ green and yellow bell peppers (chopped)
2 spring onions (chopped)
3 sprigs thyme (or ½ tsp. thyme)
½ tsp. black pepper
1 tbsp. ketchup



Directions


1. Wash and oil salt fish for 10 minutes to remove the excess salt. Drain the water and repeat this process twice or until the salt fish is no longer as salty. Shred into smaller pieces using your hands or a fork and set aside.

2. In a separate frying pan, heat up the coconut oil and add in the chopped onions. Fry on medium heat until translucent and add in the bell peppers, thyme, spring onions, black pepper and all purpose seasoning. Sauté for 3 minutes.

3. Add the salt fish to the frying pan and combine well. Add in the ketchup and fry for a further 1-minute. Taste for salt and adjust to preference. Turn off the pot and serve whilst hot with fry bakes or homemade bread.