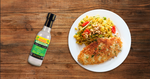 Serves: 4 | Preparation time: 10 minutes | Cooking time: 10 minutes
Ingredients




4 boneless, skinless chicken breasts (about 1 pound)
1 large egg white
1/8 teaspoon Cool Runnings coconut extract
1/4 cup panko breadcrumbs
1/4 cup plain breadcrumbs
1/4 cup unsweetened coconut (or sweetened shredded coconut)
1/4 teaspoon salt
1/4 teaspoon black pepper
1 teaspoon canola oil



Directions


1.

Cover the chicken breasts in plastic wrap and gently pound to 1/4-inch thickness. Set aside.



2.

 In a medium shallow bowl, whisk together the egg white and coconut extract. In another medium shallow bowl mix together the breadcrumbs, coconut, salt, pepper and oil.



3.

Dip each breast into the egg mixture, allowing excess to roll off, roll in coconut crumbs and set aside.



4.

Preheat the air fryer to 360°F.



5. Place the coated chicken in the air fryer and cook for 10 minutes turning, and adding a light spray of cooking spray half way through until coating is golden brown and chicken is cooked through.