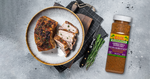 Ingredients




1½ kg boneless pork belly

3 tbsp olive oil



Directions


1. 

Brush the pork belly with olive oil. Rub Cool Runnings Caribbean spice and roasted garlic all over the pork belly.



2.

Chill for a few hours or overnight in the fridge.



3.

When ready to roast, preheat the oven to 350°F.



4.

Place a rack inside a roasting pan, then add 1 cup of water to the pan.

 Lay the pork belly on the rack with the skin side up.

 Roast for 2 to 2.5 hours, adding more water to the roasting pan if necessary.



5.

Increase the oven temperature to 425°F and roast for another 20 minutes or until the skin is crispy.

 Remove from the oven and let it rest for 10 to 15 minutes before cutting.

6. Serve and enjoy!