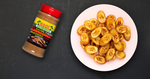 Ingredients




Directions


1. Preheat the air fryer to 380°F (190°C).

2.  Peel the plantains and slice them into 1/2 inch thick pieces.

3.  In a small bowl, mix together the olive oil, salt, and Cool Runnings Jerk Seasoning.

4. Brush the plantain slices with the jerk seasoning mixture.

5. Place the plantain slices in the air fryer basket in a single layer, making sure they are not touching.

6. Air fry the plantains for 5 minutes, then flip them over and air fry for an additional 5 minutes until they are golden brown and crispy. Remove the fried plantains from the air fryer and enjoy!