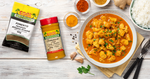 Ingredients




Directions


1.

Preheat your air fryer to 390°F (200°C).



2. 

In a large bowl, mix together the curry powder, garlic powder, onion powder, ground ginger, ground allspice, cayenne pepper, salt, and pepper.



3. A

dd the chicken pieces to the bowl and toss until they are evenly coated with the seasoning mixture.



4. Drizzle the olive oil over the chicken pieces and toss again to coat them.

5. Arrange the chicken pieces in a single layer in the air fryer basket.

6. Cook the chicken for 10-12 minutes, flipping them over halfway through cooking, until they are cooked through and golden brown.

7. Serve the curry chicken hot with rice and/or vegetables and enjoy!