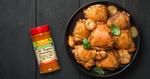 Ingredients




5 Chicken thighs (cleaned & washed)
Vegetable oil
2 Small onions (cut into wedges)
2-3 tbsp butter (melted)



Directions


1. Grease baking tray with oil, then place chicken thighs on the tray along with the onion wedges. 

2. Brush the melted butter on the chicken thighs.

3. Sprinkle Cool Runnings All Purpose Seasoning No MSG on both sides of the chicken. 

4. Bake the chicken skin side up in a preheated oven at 350 F for 45 minutes, and enjoy with your favorite sides!