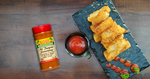 Ingredients




1 lb Cassava (Washed & Peeled)
Frying Oil
Water
1 tbsp sugar



Directions


1. Boil water, add 1 tbsp sugar, add cassava and cook for about 15 minutes.

2. Drain, cool, and cut cassava into sticks.

3. Place the cassava sticks on a tray, spacing them out to prevent them from sticking together. Then place them in the freezer to chill for 1.5 hours.

4. 

Heat Oil, and fry cassava for 5-8 minutes until golden and crispy. When they float to the top, the cassava is cooked.

 

5. Place cassava on a dish lined with paper towels and sprinkle Cool Runnings All Purpose Seasoning MSG on top for a fabulous appetizer.