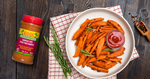 Serves: 6 servings | Prep time: 10 minutes | Cooking time: 30 minutes
Ingredients




Directions


1.

Preheat oven to 400°F.



2.

In a medium bowl, toss potatoes with vinegar, oil and 

Cool Runnings Barbecue spice

 until all slices of sweet potato are evenly coated.



3.

Place chips on a large baking tray and bake for 10 minutes. Flip them and bake until they are crispy, about 13 minutes.



4. Enjoy!


Tip: Use a mandolin to slice the sweet potatoes. It will reduce your prep time and ensure that all chips are evenly baked.