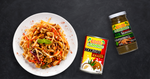 Serves: 6 | Preparation time: 10 minutes | Cooking time: 27 minutes
Ingredients




2 tablespoons olive oil (or vegetable oil)

1 small onion, chopped

1 green bell pepper, sliced

1 red bell pepper, sliced

1 orange bell pepper, sliced

3 cloves garlic, chopped

1 tablespoon Cool Runnings jerk seasoning (mild)

400 gr canned or fresh tomatoes

1 cup of grated fresh Parmesan cheese

300 gr fettuccine pasta

Chicken for serving



Directions


1.

Heat 2 tablespoons of olive oil in a large pan and add the chopped onion and sliced green, red and orange bell peppers. Cook them down for about 5 minutes to soften. Add the garlic and 1 tablespoon Cool Runnings Jerk Seasoning (Mild). Cook for 2 minutes while stirring.



2.

Add the tomatoes and stir. Cook for 5 minutes to cook down the tomatoes.



3.

Add 1 cup of coconut milk and simmer for 5 minutes to thicken up. If it gets too thick, swirl in a few tablespoons of water.



4. 

Stir in the parmesan cheese and remove from heat.



5. 

While the sauce is simmering, cook the fettuccine pasta in a large pot according to the package instructions. Drain and toss with the sauce.



6.

Mix the chopped chicken with 1 tablespoon of olive oil and 1 tablespoon of Cool Runnings Jerk Seasoning (Mild).



7.

Heat a separate pan to medium heat and bake the chopped chicken for up to 10 min, until baked through.



8. Serve the chicken over the pasta. Garnish with fresh chopped parsley and extra grated parmesan cheese.