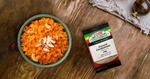 Servings: 6 servings | Prep time: 20 minutes | Cooking time: 90 minutes
Ingredients  




1 kilogram red carrots grated, (15-16 medium size carrots)
1.25 liters whole milk (around 5 cups)
3 tablespoons ghee 45 ml, divided
1-1.5 cups granulated white sugar
3/4 teaspoon of Cool Runnings ground cardamom
2 tablespoon chopped cashews
Directions


1. Peel and grate carrots using the thick side of a grater. Add the grated carrots to a pan on medium high heat and sauté them for about 10 minutes, until the moisture dries out. Remove pan from heat and set it aside. 

2. Meanwhile, add milk in a heavy bottom pan(important so that the milk doesn't burn), set heat to a medium-high and remember to stir often. Once the milk comes to a boil, lower the heat to a medium and let the milk reduce until it is about half or a little more than half. after around 30-35 minutes, the milk will reduce to less than half. Remember to stir the milk often when it is reducing. At this point, add the grated carrots in and stir. 

3. Fry cashews in 1 tablespoon of ghee until they turn golden brown in color and set aside. 

4. Keep stirring the pot on medium heat and cook until all the milk is absorbed by the carrots and it reduce to milk solids. You will see small particles of milk solids. (around 10-20 minutes)

5. Add sugar to the pot, can adjust for taste. This will make the carrot pudding more liquid-y again. Continue to cook the carrots, stirring constantly until the sugar liquid is all soaked up (around 15 minutes).

6.  Once that is done, add the cardamom powder and remaining ghee and roast for 3-4 minutes. 

7. Add in the nuts, give it a final stir and you are done! Serve the carrot pudding warm and enjoy.