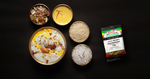 Servings: 5 servings | Prep time: 10 minutes | Cooking time: 40 minutes
Ingredients  




1/4 cup of basmati rice (50 grams)
1 liter whole milk
4-5 tablespoons sugar
3 tablespoons chopped nuts (cashews & almonds)
1 teaspoon ghee (clarified butter)
3-4 green of Cool Runnings cardamom pods (slightly crushed)
1.5 teaspoons rose water optional
Directions


1. Wash the rice and rinse until the water runs clear. Let the rice soak in water for 20 - 30 minutes. Once the time is up, drain the rice and set aside. Meanwhile, heat a pan on medium heat. Add 1 teaspoon of ghee 

2. Grab a pan and heat it up over medium heat. Add 1 teaspoon of the ghee and the soaked and drained rice. Next, add about 3-4 crushed green cardamom pods. Toss the rice with the ghee and cardamom for 1 to 2 minutes, stirring constantly. 

3. Next, add milk to the pan and stir well, set the heat to a medium - high. Let the milk come to a boil, (10 - 12 minutes), remember to stir occasionally so that the milk doesn't get stuck to the pan. 

4. Once the milk is boiled, lower the heat to low and let the kheer cook for around 25 minutes. Stir every 2 minutes or so. You want the milk to reduce and the kheer should start to get thick and the rice completely cooked. Add in the sugar and nuts and mix.

5. Cook the kheer for 5 more minutes. Let the sugar dissolve completely. The kheer will continue to thicken as it cools down.

6. Remove the pan from the heat and stir in rose water. Garnish the kheer with more nuts and serve either warm or chilled! Enjoy.