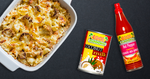 Serves: 4 |  Preparation time: 10 minutes |  Cooking time: 40 minutes
Ingredients




1 large head cauliflower, cut into florets

1 tablespoon butter, plus more for the pan

1 cup grated pepper jack cheese

One 4-ounce log fresh goat cheese

1 cup of

 

Cool Runnings coconut milk

1/2 teaspoon dry mustard

1/4 cup grated Parmesan

salt and pepper to taste



Directions


1.

Bring a large pot of salted water to a boil. Preheat the oven to 375 degrees F. Grease a baking dish with butter.



2.

Cook the cauliflower in the boiling water until just crisp-tender, about 10 minutes. Drain well

.



3.

In a large saucepan, heat the milk and butter over medium heat. Whisk in the dry mustard and add Cool Runnings Hot Pepper sauce, salt and pepper. Just before the milk comes to a boil, turn off the heat and stir in the pepper jack and goat cheese. When melted and smooth, stir in the cauliflower. Spread the mixture into the prepared baking dish and sprinkle over the Parmesan

.



4.

Bake until the top is golden brown and the mixture is bubbling, about 30 minutes. Let rest for a few minutes before serving

.



5.

Enjoy.