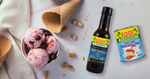 Serves: 12 servings | Prep time: 10 minutes  | Freezing time: 8 hours
Ingredients



Directions


1.

Take a large bowl and whip the heavy cream with a hand mixer until stiff peaks form, about 2 to 3 minutes.



2. Crush your graham crackers in a food processor.

3.

Fold in the sweetened condensed milk and vanilla extra into the cream mixture, and keep folding until it is fully incorporated. Next, fold in the crushed graham crackers.



4.

Pour half the mixture into a loaf pan (roughly 9"-x-5"). Dollop half the cup of pie filling over the top and swirl with a knife. Add the remaining cream mixture, then swirl in the remaining pie filling. Top it with some graham crackers.



5. 

Freeze the cheesecake ice cream until firm; it should take at least 8 hours. Make sure to cover lightly with plastic wrap after 4 hours. Let soften for 10 minutes before serving.