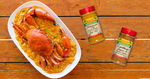 Ingredients  



Directions


1. Heat 2 tbsp British Class Coconut Oil in pan on Medium, and sauté Onion and Garlic for 1 minute. Add 2 tbsp Cool Runnings Jamaican Style Curry Powder and brown for approx. 2 minutes.

2. Add 2 cans Cool Runnings Coconut Milk and simmer for 10 minutes. Then add the Mustard (crab guts), 1 tbsp Cool Runnings Adobo with Garlic & Pepper, 1 tbsp Cool Runnings Caribbean Spice & Roasted Garlic, 2 tsp Cool Runnings Black Pepper Ground, 1 tbsp Cool Runnings Demerara Sugar, stir well, and allow to simmer for 10 minutes.

3. Add the Crab, and stir well. Allow to simmer for 5 minutes. Then add Green Onions, Cilantro, and simmer for an additional 5 minutes.

4. Serve with Rice or Roti and enjoy! For a spicier version, add your favourite Cool Runnings Hot Sauce or freshly chopped peppers.