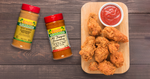 Servings: 5 servings | Prep time: 20 minutes | Cooking time: 40 minutes
Ingredients  



Directions


1. Clean the cut chicken by rinsing in some lime water. 

2. Place the chicken in a bowl. Season it with the all purpose and chicken seasoning. Mix well, cover and let marinate for at least 30 minutes.  

3. In another bowl, add the flour, salt and pepper and mix well. Put this dry mixture in a bag and set aside. Beat the eggs in a separate bowl for the wash.

4. Take one chicken piece at a time and dip into egg, and then place in the bag with the flour mixture. Seal bag and shake well to coat it.


5. Fill a large skillet, about 1/3 full with vegetable oil. Heat until the oil is hot. Fry the chicken and turn frequently until it is golden brown. It should take about 20 minutes. Serve with choice of dipping sauce and enjoy!