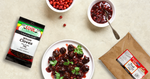 Servings: 10 servings | Prep time: 5 minutes | Cooking time: 20 minutes
Ingredients  




1/2 cup Apple cider vinegar, unfiltered
1 cup of Cool Runnings brown sugar
1/2 tsp of Cool Runnings ground cloves
10 dried figs, chopped
12 oz bag Fresh cranberries
1 small jalapeno, seeded, minced (roughly 2 tablespoons)
3/4 cup Apple, peeled, cored and diced
Directions


1. Heat up sauce pan over medium-high heat, bring the apple cider vinegar and sugar to a boil. Reduce heat and simmer until sugar dissolves ( 2-3 minutes).

2. Next, add the cloves, cinnamon, figs, cranberries, jalapeno and apple into the pan. Bring it back up to a boil and let simmer for 15 minutes, to allow fruit to soften, stir occasionally.

3. Remove from heat and serve. Pairs great with most cheeses!