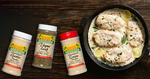 Serves: 4 |  Preparation time: 10 minutes | Cooking time: 20 minutes
Ingredients


Chicken:
Sauce:


Directions


1. 

Coat chicken breasts with the onion and garlic powders and herbs. Season generously with salt and pepper.



2.

Heat 1 tablespoon of oil a large pan or skillet over medium-high heat and cook chicken breasts until opaque and no longer pink inside (about 5 minutes each side, depending on thickness). Transfer to a plate; set aside.



3.

To the same pan or skillet, heat another 2 teaspoons of olive oil and sauté garlic, with parsley, thyme and rosemary, for about 1 minute, or until fragrant.



4.

Stir in milk (or cream); season with salt and pepper, to taste.



5. 

Bring to a boil; add the cornstarch mixture to the center of the pan, quickly stirring, until sauce has thickened slightly. Reduce heat and simmer gently for a further minute to allow the sauce to thicken more.



6.

Return chicken to the skillet. Sprinkle with extra herbs if desired.



7.

Serve immediately and enjoy.