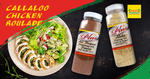 Serves: 4 |  Preparation time: 15 minutes | Cooking time: 45 minutes
Ingredients




Directions


1. 

Preheat the oven to 450 degrees F.



2.

Lay a piece of plastic wrap on a work surface. Place one of the chicken breasts on top and lay another piece of plastic wrap on top. Using the smooth side of a mallet, pound the chicken breast until 1/4 -inch thick all around. Repeat with the second chicken breast.



3.

Remove the top layer of plastic and sprinkle the top of each chicken with an even layer of ½  teaspoon of salt, ½  teaspoon black pepper, 1 teaspoon of Adobo, ½ teaspoon of All-Purpose Seasoning with Pimento, 1 teaspoon dried basil and 1 teaspoon of oregano. Set aside, covered in plastic wrap in the refrigerator.



4.

Add 2 tablespoons of the oil to oven over medium-high heat. Add the onions and garlic and stir until aromatic and translucent, 3 to 5 minutes. Add the callaloo, stirring to combine all the ingredients. Stir in the tomatoes, ½ teaspoon of the thyme leaf, ½ cup of water, and 4 tablespoons of Scotch Bonnet Pepper Sauce. If the callaloo seems a bit dry, add a little more oil and water. Let cook until the callaloo is soft, another 3 to 5 minutes. Season with salt and pepper and add more Scotch Bonnet Pepper Sauce for added heat if desired. Transfer the mixture to a parchment-lined-baking sheet, smooth to flatten, and cool in the refrigerator for 15 minutes.



5. On a clean surface, lay a flattened chicken breast seasoned side down. Spoon half of the cooled callaloo in an even layer. Starting at one long side, fold over the chicken and continue rolling until it's in the shape of a small log. Enclose and tighten the roulades with 2 pieces of plastic wrap. Repeat with the remaining chicken breast and callaloo mixture.

6. Bring a medium stockpot of water to a simmer over medium-high heat. Place the wrapped roulades into the water. Using tongs, rotate for about 5 minutes to set the chicken. Remove, take off the plastic, and let rest for 3 minutes.

7. Heat the remaining 2 tablespoons oil in a large non-stick skillet over medium-high heat. Add the roulades and sear all sides until golden brown, 8 to 10 minutes. Add the butter and remaining ½ teaspoon of thyme leaf. Using a spoon, baste the chicken with the melted butter for another 2 minutes. Place the skillet in the oven until the internal temperature of the chicken is 160 degrees F on an instant-read thermometer, about 10 minutes. Remove and let rest for 5 minutes.

8. Slice, serve and enjoy.