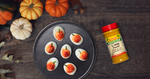 Serves: 4 |  Preparation time: 15 minutes |  Cooking time: 30 minutes
Ingredients




6 hard-boiled eggs
2 tablespoons mayonnaise
1 teaspoon Dijon mustard
1 teaspoon

Cool Runnings curry powder

Salt and pepper to taste
Paprika for garnish
Parsley leaves (for decoration)



Directions


1. Carefully peel the hard-boiled eggs and cut them in half lengthwise. Scoop out the yolks and place them in a bowl.

2. Mash the egg yolks with a fork. Add mayonnaise, Dijon mustard, Cool Runnings Curry Powder, salt, and pepper. Mix until well combined and creamy.

3. Spoon or pipe the yolk mixture back into the egg whites, dividing it evenly among the eggs.

4. Lightly sprinkle paprika over the eggs to add a warm color and flavor.

5. For the stem of the pumpkins, use a small piece of parsley leaf placed a top of the mixture of each deviled egg.