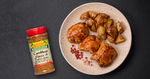 Serves: 4 |  Preparation time: 15 minutes |  Cooking time: 50 minutes
Ingredients




4-6 chicken thighs, bone-in and skin-on
2 tablespoons of Cool Runnings Caribbean spice & roasted garlic
3 tablespoons olive oil
3-4 medium-sized potatoes, peeled and cut into chunks
1 lemon, cut into wedges
Salt and pepper to taste
Fresh parsley for garnish (optional)



Directions


1. Preheat your oven to 375°F (190°C). Rinse and pat dry the chicken thighs. Place them in a roasting pan or a deep baking dish.

2. In a small bowl, mix the Cool Runnings Caribbean spice with olive oil to form a paste. Rub this mixture all over the chicken thighs, ensuring they're evenly coated. Season with salt and pepper.

3. Arrange the potato chunks around the chicken in the roasting pan. Squeeze some lemon juice over the chicken and tuck the lemon wedges around the pieces.

4. Place the roasting pan in the preheated oven. Roast for about 45-50 minutes, or until the chicken reaches an internal temperature of 165°F (74°C) and the juices run clear.

5. Remove the chicken from the oven and let it rest for about 5-10 minutes before serving. If desired, garnish with fresh parsley.

6. Plate the chicken thighs with the roasted potatoes and enjoy!