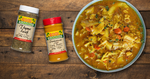 Servings: 4 servings | Prep time: 10 minutes | Cooking time: 20 minutes
Ingredients  


 



Directions


1. Prepare the cabbage by slicing them into 1 inch thick strips and set aside in a bowl.

2. Heat up coconut oil in a large saucepan over medium-high heat. Add onions to the saucepan once the oil is heated and sauté until they are soft (2 minutes). Stir in the garlic, green onions and cook until fragrant (1 minute). 

3. Stir in the coriander, turmeric, cumin, curry powder and thyme. 

4. Add the coconut milk, water, cabbage, carrot and salt and stir to evenly coat the vegetables. Bring the curry cabbage to a boil, reduce the heat and let simmer until the cabbage is tender, fully cooked and the sauce has thickened (20 minutes).

5. Remove from heat and serve with rice, potato or roti!