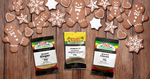 Servings: 24 servings | Prep time: 4 hours| Cooking time: 10 minutes
Ingredients  



Directions


1. Beat the butter until completely smooth and creamy with a hand-held mixer for about 1 minute. Add brown sugar and molasses to the butter and continue to beat for another 2 minutes, until it is combined and creamy-looking. Scrape down the sides of the bowl and beat in the egg and vanilla on high speed for about 2 minutes. 

2.  In another bowl, combine the flour, baking soda, salt, ginger, cinnamon, allspice, and cloves well by whisking it together. On low speed, slowly mix the dry mixture into the wet ingredients and combine well. The cookie dough should be thick and slightly sticky. 

3. Divide the dough in half and place each half onto a large piece of plastic wrap. Wrap each half tightly and pat down to create a disc shape. Let the dough chill for about 3 hours, this is mandatory.

4. Once you have let the dough chilled and are ready to make the cookies. Preheat your oven to 350 F. Line two large baking sheets with some parchment paper. Remove one chilled cookie dough and generously flour the work surface, your hands and a rolling pin. Roll out the disc until it is 1/4 inch thick. Using your choice of cookie cutters, cut out some shapes and place them 1 inch apart on the baking sheets. Re-roll the dough scraps together, and continue cutting out shapes until you have no more dough.

5. Bake the cookies for about 9-10 minutes, If your cookies are smaller than 4 inches, bake for about 8 minutes. The longer you bake them for, the harder and crunchier they will be.

6. Remove the cookies from the oven and allow the cookies to cool for 5 minutes on the cooking sheet. Transfer to cooling rack to cool completely. Once cooled, decorate as desired and serve!