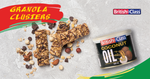 Serves: 4 |  Preparation time: 10 minutes |  Cooking time: 25 minutes
Ingredients




2 cups of sliced almonds

1 cup of crushed walnut pieces

½ cup of raw pumpkin seeds

¼ cup of chia seeds

¼ cup of sunflower seeds
¼ cup of

 

the 

British Class coconut oil

½ cup plus 2 tablespoons of maple syrup

¼ teaspoon sea salt



Directions


1. Preheat the oven to 350°F. Line a rimmed baking sheet with parchment paper. In a large bowl, combine the almonds, walnuts, pumpkin seeds, chia seeds, and sunflower seeds until evenly mixed.

2.

Heat the coconut oil and maple syrup in a medium saucepan over low heat until the oil is melted, then stir to combine. Pour the mixture evenly over the nut mixture and toss well to evenly coat. Spread the granola in an even layer on the baking sheet.



3.

Bake for 15 to 20 minutes, or until golden brown and sticky. Let the granola cool until it is room temperature, then break it up. Store in an airtight container at room temperature for up to 2 months.



4. Enjoy.