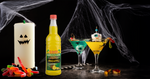 Ingredients




2 oz dry vermout

2 oz white rum

2 oz orange juice no pulp (or more, if desired)

Ice, as desired



Directions


1. 

Put all ingredients into a shaker with ice and mix well.



2.

Strain into two cocktail glasses. If drink is too strong, top it with extra orange juice. Garnish with orange peel or Halloween props, if desired.



3. 

Drink responsibly and enjoy!