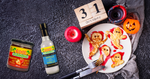 Ingredients




For the Strawberry Sauce:

For the Pancakes:



Directions


1. 

For the strawberry sauce: Cook the strawberries, sugar, lemon juice and 2 tablespoons water in a medium saucepan over medium heat, stirring frequently, until the berries break down, about 10 minutes. Stir in the vanilla. Strain through a fine-mesh sieve into a medium bowl, pressing on the solids; let cool.



2.

Meanwhile, for the pancakes: Whisk the flour, sugar, baking powder and salt in a large bowl. Whisk the milk, butter, eggs and vanilla in a medium bowl, then whisk into the flour mixture until just combined.



3. 

Heat a griddle or large nonstick skillet over medium heat; lightly brush with melted butter. Working in batches, pour 1/4 cup of the batter onto the griddle for each pancake and shape into spooky design of choice. Let cook until bubbles form on top and the bottom is lightly browned, about 3 minutes.



4. 

(If the pancakes are browning too quickly, reduce the heat to medium-low.) Flip and continue cooking until golden on the other side, about 1 more minute. Transfer to a plate. Repeat with the remaining batter, brushing the pan with more butter as necessary.



5.

Stack the pancakes, then drizzle with the strawberry sauce and insert a knife into the top.