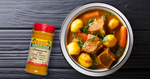 Servings: 6 servings | Prep time: 20 minutes | Cooking time: 50 minutes
Ingredients  

2 pounds of beef stew meat

2 tbsp. of Cool Runnings Jamaican style curry powder

5 medium carrots, sliced into large chunks

1 large russet potato, peeled and chopped

4 cloves of garlic sliced, lengthwise

1 medium onion, sliced

1 cup of beef broth or water

4 thyme sprigs

1½ tbsp. olive oil, divided

¼ tsp freshly ground black pepper

2½ tsp salt




Directions


1.

In a mixing bowl, combine the garlic, half the onions, curry powder, salt and black pepper. Mix the meat in, making sure they are evenly coated.



2. Set your instant pot to the sauté setting and add 1 tbsp. olive oil. Carefully add the meat into the pot, leaving behind the garlic and onions in the bowl. Save them to be browned for later. Brown the beef for 3-4 minutes until it develops colour and gets a crust. Remove the meat from the pot and transfer it to a plate. You might have to do this in two separate batches.

3. Add the remaining olive oil to the pot and the left-behind garlic and onions. Sauté for 2-3 minutes. Add the carrots, potatoes, browned beef and beef broth. Scrape the bottom of the pan to make sure nothing is stuck at the bottom of the pot. Add the thyme and allspice berries.

4. Close the instant pot lid and the steam valve. Press the meat/stew setting or set the cooker to 35 minutes of high pressure. Allow the cooker to cool naturally and release the pressure.

5. Serve with basmati rice, and enjoy!