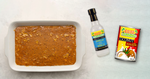 Ingredients  




Directions


1.

Preheat the oven to 350 F. Prepare a greased 10-inch baking pan.



2.

In a large bowl, combine the cornmeal with flour, coriander, shredded coconut and salt.



3.

Heat up the 2 cups of coconut milk, 3 cups of water and 2 tsp of vanilla flavouring in a saucepan over medium heat.



4. Crush up the ripe banana and add to the saucepan with oil and raisins. Mix well until the liquid is heated, not boiling.

5. Add half of the liquid to the dry ingredients in the large bowl and mix well. Add the remaining liquid and mix until it becomes a smooth batter.

6. Pour into the greased baking pan and let bake for 15 minutes.

7. In another bowl, combine the remaining 1 cup of coconut milk, honey and ½ tsp of ground coriander. After 15 minutes, stir the batter to distribute the raisins evenly.

8. Pour the topping ingredients mixture onto the pudding and let it bake for an hour.