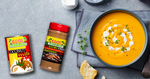 Serves: 4-6 |  Preparation time: 15 minutes |  Cooking time: 50 minutes
Ingredients




1 lb (450g) pumpkin, peeled and chopped into chunks
2 carrots, peeled and chopped
2 potatoes, peeled and chopped
1 onion, chopped
2 cloves garlic, minced
1 scallion, chopped
2 sprigs thyme
1 scotch bonnet pepper (optional, adjust to taste)
6 cups vegetable or chicken broth
1/2 cup Cool Runnings coconut milk
Salt and pepper to taste
2 tablespoons vegetable oil
2 tablespoons Cool Runnings Jerk seasoning
Optional toppings: chopped fresh cilantro, croutons, or a dollop of sour cream



Directions


1. In a large pot, heat the vegetable oil over medium heat. Add the chopped onion, garlic, and scallion. Sauté until softened. Stir in the Cool Runnings Jamaican Jerk seasoning and cook for another minute to infuse the flavors.

2. Add the pumpkin, carrots, potatoes, thyme, and scotch bonnet pepper (if using). Pour in the broth and bring to a boil.

3. Reduce the heat, cover, and let it simmer for about 30-40 minutes or until the vegetables are tender.

4. Remove the scotch bonnet pepper and thyme sprigs. Use an immersion blender or transfer the soup to a blender in batches to puree until smooth.

5. Return the soup to the pot and stir in the coconut milk. Simmer for an additional 5-10 minutes. Taste and adjust seasoning with salt and pepper if needed.

6. Ladle the hot soup into bowls. Top with optional toppings like chopped fresh cilantro, croutons, or a dollop of sour cream.