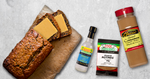 Serves: 6 | Preparation time: 15 minutes | Cooking time: 1 hour
Ingredients




Directions


1.

Preheat oven to 350 degrees. Grease a loaf pan with baking spray; set aside.



2.

In a medium bowl, whisk together the following ingredients: British Class Demerara Style Brown sugar, British Class Sweetener Whitener, honey, browning, Molasses, Cool Runnings Vanilla Extract, melted butter Guinness Stout and egg.



3.

In another bowl combine all purpose flour, British Class Baking powder, nutmeg, Cool Runnings Ground Cinnamon, All Natural All Purpose Seasoning and salt,  lightly mix. Then throw in the dried fruits.



4.

Then combine wet and dry ingredients until thoroughly.



5. 

Scrape down sides.



6.

Pour mixture into prepared loaf pan, add cherries on top and bake for about 60-75 minutes.



7.

Let it cool before slicing, add a slice of cheese and Enjoy!