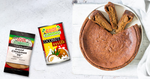 Servings: 8 servings | Prep time: 10 minutes | Cooking time: 1h 10 minutes
Ingredients  


 
Directions


1. Preheat your oven to 350F. Prep your 9-inch baking pan with oil.

2. Add sweet potato chunks and coconut milk into a high powered blender and blend into a puree.

3. Slowly pour the puree into a bowl and stir in the rest of the ingredients and combine well.

4. Pour the batter into the cake tin and bake for about 1 hour and 10 minutes. the sweet potato pudding should be set. To test, you can insert a wooden skewer in and it should come out clean. 

5. Let the pudding cool in the cake tin before serving.