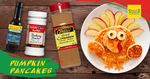 Serves: 12 Pancakes |  Preparation time: 10 minutes |  Cooking time: 10 minutes
Ingredients




Directions


1.

Preheat your griddle or non-stick pan on medium heat.



2.

In a large bowl, whisk together the flour, baking powder, salt, cinnamon, ginger and nutmeg

.



3.

In a separate medium bowl, combine the sugars, vanilla extract and pumpkin puree, eggs, melted butter and milk

.



4.

Pour the wet ingredients into the large bowl with the dry ingredients and whisk together. The batter should be lump, do not over mix

.



5.

Set the batter aside for 5 minutes

.

6. Butter your griddle or non-stick pan. Pour out 1/3 cups of batter for each pancake and spread into a circle.

7. Let sit for approximately 4 minutes per side or until golden brown.

8. Serve pancakes with butter, syrup, some fruits, whipped cream or your favorite toppings!.