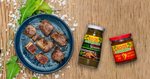 Ingredients




Directions


1. 

Toss all marinade ingredients together inside a ziplock bag.



2. 

Remove teh air with the bag up, then place it flat on a plate allowing the meat to marinate for at least 3 hours (or up to 24 hrs) in the fridge.



3. 

When ready to sauté, take the bag out and allow to sit at room temperature for 1 hour.



4.

In a small bowl melt the butter and add the avocado oil and garlic. Reserve.



5. 

Heat a nonstick frying pan on medium high.



6.

Add half the garlic butter oil mixture to the pan, and toss in half the cubed beef (without the liquid from the marinade), turning the beef cubes to allow them to sear and caramelize to a dark brown colour on each side. Sauté for 3-5 minutes for medium rare.



7.

Repeat steps 5 & 6 for the second batch.



8.

These make a perfect snack or appetizer, or serve with your favourite vegetables, rice or pasta for a completely delicious meal.