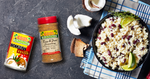 Ingredients




Directions


1. 

 In a large measuring cup, combine the liquid from the canned beans with 

Cool Runnings Coconut Milk

. Add water to the measuring cup until it is reaches 3 ½ cups.



2. 

Pour the liquid into a large pot and add the green onions, thyme, full scotch bonnet pepper, 

Cool Runnings Rice and Peas Seasoning

, kidney beans and black pepper. Bring it to a boil and cook for 3 minutes.



3. 

Add the long grain rice and butter and stir the pot once.



4.

 Reduce heat to low then cover and simmer for 25-30 minutes or until water has evaporated.



5. 

If the rice is not tender, add a bit more water (to your discretion) and simmer for another 3 minutes until cooked.



6. Serve hot with your choice of protein and enjoy!