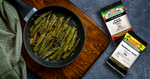 Serves: 6 servings | Prep time: 5 minutes | Cooking time: 20 minutes
Ingredients



Directions


1. Preheat your oven to 450 F. Place the okra in the center of a large sheet pan and drizzle oil over top. Add all the seasonings and toss well to fully coat the okra.  

2. Spread the okra out so that it is one single layer. Let is roast in the oven for 18-20 minutes. Shake the pan once at the 10 minute mark and turn the okra.

3. Let cool and serve.