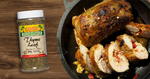 Servings: 6 servings | Prep time: 10 minutes | Cooking time: 20 minutes
Ingredients




Directions


1. Cut bell peppers into thin strips.

2. 

Preheat your oven to 375℉. Take a non-stick skillet and heat the oil over medium-high heat. 



3. Place the chicken breasts with skin side up between two sheets of waxed paper, and pound lightly until it is 1/4 inch thick. Turn chicken over and season the skinless side with some salt and pepper.

4. Place the bell peppers onto thinned out chicken breast and carefully roll up the chicken breast, secure it with toothpicks. 

Optional: throw on some cheese.

Make sure to Roll it tightly!

5. Sprinkle with remaining salt, pepper and thyme. Using the same skillet, brown the chicken lightly on all sides. Transfer the chicken to a baking sheet and let bake in the oven for 10 minutes, until the chicken is no longer pink inside.

6. While you wait for the chicken in the oven, in the same skillet, bring chicken stock to a boil, stirring to scrape up any brown bits. Stir in the Dijon mustard and cook, over medium heat for about 2 minutes or until slightly reduced.

7. Spoon over chicken and serve hot!