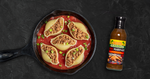 Servings: 6 servings | Prep time: 15 minutes | Cooking time: 20 minutes
Ingredients




1 (12oz) package of jumbo pasta shells
1 lb. ground turkey
1 jar of spaghetti sauce
3 cloves minced garlic
8oz Mushrooms, diced
1 onion, chopped
2-3 tbsp. Cool Runnings Jerk Marinade 
1 cup freshly grated parmesan cheese
Salt & pepper to taste



Directions


1. Preheat the oven to 350

℉

. Meanwhile, bring a large pot of water to a boil. Ass the pasta shells into the pot once water is boiling, and let cook for 8 minutes or until al dente. 

2. Drain the pasta and set aside in warm water when it is done cooking.

3. Mix in the Cool Runnings jerk marinade to your ground turkey and set aside. In a large skillet, sauté the mushrooms, garlic and onions. Add the ground turkey into the pan and cook until evenly brown. 

4. Season with some salt and pepper and add the spaghetti sauce onto the skillet. Once the sauce is heated up, remove from heat and stir in parmesan cheese. 

5. Stuff the cooked shells with the ground turkey mixture and place it in a baking dish. Cover it with foil and bake in the oven for 30 - 40 minutes.

6. Once time is up, remove from oven and serve while hot, with some hot sauce!