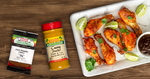 Servings: 8 servings | Prep time: 10 minutes | Cooking time: 45 minutes
Ingredients  


 



Directions


1. Combine paprika, curry powder, salt, garlic, chili powder, ginger and melted margarine. Rub mixture well into chicken and allow to marinate for 3-4 hours or overnight.

2. Bake in a preheated oven at 325°F for 20 minutes, basting often with the marinade.

3. Turn over chicken, baste and continue to bake for 25 minutes until cooked.

4. Combine dripping from chicken with onion in a saucepan and gently simmer until onion is tender.


5. Place chicken under a hot grill and brown to a nice rich colour.

6. Put on a platter and pour sauce over to serve.