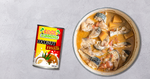 Servings: 6 servings | Prep time: 10 minutes | Cooking time: 45 minutes
Ingredients  


 

2lb salted mackerel
1 can of Cool Runnings coconut milk
1 cup water
1 onion
2 tomatoes
3 scallion
3 garlic cloves
A few sprigs of thyme (about 4 or 5)
vinegar, black pepper and salt to taste



Directions


1. Soak the mackerel in water overnight, remember to change the water regularly. When you are ready to prepare the dish, boil the mackerel for 15 minutes and then set aside and let cool. 

2. Prepare the mackerel by removing the head and bones and cutting the fish into smaller pieces.

3. Chop up the onions, scallions, tomatoes and garlic. 

4. In a large saucepan, combine the coconut milk and water, bring to a boil and once boiling, reduce the heat and let simmer. Add the mackerel into the saucepan and let simmer for another 15 minutes. 


5. Add the onions, scallion, tomato, garlic, and thyme and cook together for 10 minutes. If the sauce feels too watery, mix 1 tablespoon of flour and 1/4 cup of water and stir it into the mixture. 

6. Serve with boiled green bananas and dumplings for breakfast and enjoy!