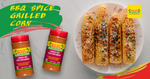 Ingredients




4 pieces of corn on the cob

2 tbsp vegetable oil

½ cup of mayonnaise

Lime juice from 1 large lime

parsley for garnish (optional)



Directions


1.

Preheat your BBQ or stove top grill to medium heat.



2.

Drizzle the peeled corn with vegetable oil and sprinkle to taste 

Cool Runnings BBQ Spice Seasoning

. Be sure that all the corn is evenly coated.



3.

Grill the corn for about 15 minutes per side - if you like it charred, turn the heat up to medium-high.



4.

Once cooked, remove of grill and set aside to cool slightly.



5.

In a separate bowl, mix lime juice and mayonnaise and brush onto cooked corn.

 

6.

Sprinkle some more 

Cool Runnings BBQ Spice Seasoning

 over corn

.

 Garnish with fresh lime and parsley, if desired

.