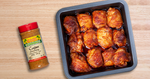 Ingredients




2 pieces chicken thighs and legs with skin

½ cup water



Directions


1.

P

reheat the oven to 350°F. 

2. 

Rub 

Cool Runnings Cajun seasoning

 all over both pieces of chicken and place it skin side up on the baking pan.



3. 

Pour the water into the pan. Do not pour the water over the chicken, pour from the side so that the chicken still has 

Cajun Seasoning

 on its exterior.



4.

Bake the chicken for 40-50 minutes until it is golden brown.



5. 

Using a spoon, baste the chicken with the water mixture that has formed in the baking pan.



6. Increase the heat to 400°F and bake for an additional 7-10 minutes until the skin bubbles and darkens.

7. 

Check to see if the chicken is cooked (no pink interior, or thermometer reading 165°F/ 75°C).



8.

Keep the sauce that has rendered from baking process for dipping or serving over rice and enjoy!