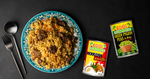 Servings: 4-6 |  Preparation time: 25 minutes |  Cooking time: 1h 20 minutes
Ingredients




2 lbs oxtail, cut into 2-inch pieces

2 tbsp olive oil

1 medium onion, chopped

3 cloves garlic, minced

1 scotch bonnet pepper, seeded and minced (optional)

1 cup Cool Runnings pigeon peas, soaked in water overnight and drained

1 cup long grain rice

2 cups chicken broth

Salt, to taste



Directions


1.

Heat the olive oil in a large pot over medium heat. Add the oxtail and brown on all sides, about 5 minutes.



2.

Add the onion, garlic, scotch bonnet pepper (if using), cumin, coriander, and thyme to the pot and cook for an additional 2 minutes.



3.

Stir in the pigeon peas, rice, chicken broth, and coconut milk. Bring to a boil, then reduce the heat to low and simmer, covered, for 1 hour or until the oxtail is tender.



4. 

Add salt to taste and garnish with fresh cilantro, if desired. Serve hot. Enjoy!



Tip: This recipe can also be made in a pressure cooker. Simply brown the oxtail and cook the ingredients in the pressure cooker for about 30 minutes.