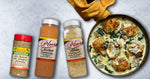 Serves: 4 |  Preparation time: 15 minutes | Cooking time: 30 minutes
Ingredients




Directions


1. 

Preheat oven to 350 degrees F.



2.

Place half of the mushrooms in a pan. Dip chicken into beaten eggs, then roll in bread crumbs, All Natural All Purpose Seasoning, Chicken Seasoning and Adobo seasoning with garlic and pepper.



3.

In a skillet, melt butter over medium heat. Brown both sides of the chicken in a skillet. Place chicken on top of mushrooms, arrange remaining mushrooms on chicken, and top with mozzarella cheese. Add chicken broth and spinach to the pan. Season with oregano.



4.

Bake in preheated oven for 30 to 35 minutes or until chicken is no longer pink and juices run clear.



5. Enjoy.